Your Experienced Kings Heights Airdrie Realtors, The Beautiful Homes Team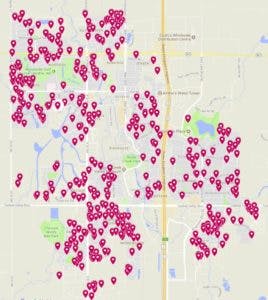 A map view of Tammy Forrest and Shayna Nackoney Skauge's HOME SALES (Both SOLD and SOLD BY) within the City of Airdrie. If you are looking for an experienced Real Estate Team, here we are! Performance proven results year after year!
Kings Heights' beautiful natural scenery, ponds and walking paths make it a favorite family community in Airdrie, accented by countless amenities and activities. For families, Kings Heights is home to three schools; a Public K-8 School (Heloise Lorimer School), a K-12 French School (Ecole Francophone D'Airdrie) and a K-9 Private School (Footprints for Learning Academy). There is currently a site getting ready to build a Public High School in the community. Here is a link to the School Attendence Areas for students living in Kings Heights.
You will love its walkability to plenty of amenities, shops, restaurants, pubs, fitness centers, groceries, Home Hardware, Shoppers Drug Mart, really everything you could want is in the Kingsview Market. Within the community, residents can bike or go for a walk around the community's landscaped pond and fountain or enjoy a book on the steps of the stone and timber amphitheatre.
Tammy Forrest and Shayna Nackoney-Skauge with the Beautiful Homes Team have a lot of experience buying and selling homes in Kings Heights. We can also take you on a guided tour of community and show you some of the newly listed home available in the area.
Use the search tool below to see what homes match your search criteria in Kings Heights. If you would like us to set you up with a custom home search specific to what you are looking for Click Here for our Custom Property Finder Portal.
For any questions you may have about a particular property, Kings Heights or any other community in Airdrie please call, email or use our instant chat feature on our website. We are always happy to help!
Map Search: