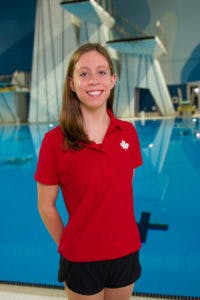 Jaime Czarkowski, a 13 year old synchronized swimmer from Calgary, recently completed an amazing season with the Calgary Aquabelles Swim Club. After winning Gold in both team and figures in Alberta Provincial Championships, Jaime continued her success with a Gold in both team and figures again at the Canadian National Championships.
Jaime's strong work ethic and passion for the support enabled her success as well as the amazing coaches and swimmers that she works with every day.  Jaime season led to a place on the 13-15 year old Team Canada, and a summer away from home training in Toronto. The team went on to compete at the Comen Cup in Portugal and finished 5th in the world. Jaime swam in the team event and was named alternate for the duet, which placed 5th overall as well.
Jaime's commitment to being a team player was recognized by her teammates who voted her the recipient of the club spirit award this year.
Jaime started synchronized swimming at the age of 7 after participating in a "Try Synchro" at the Calgary Winter Club.  She spent 5 years training with the club which prepared her to join the national age group high performance program with the Calgary Aquabelles.
Jaime comes from an athletic family and is very appreciative of everything and everyone around her, never taking this support for granted. She feels so privileged to be around so many amazing coaches and swimmers, always learning, always pushing to be just a little bit better everyday. …..We are so proud to help support Jaime's journey to excellence and excited to follow her career!