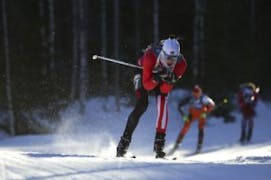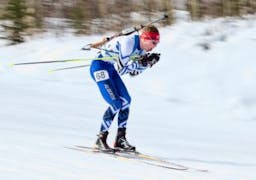 Ben Churchill, a 17 year old biathlon athlete has recently qualified to represent Canada at the 2016 Lillehammer Youth Olympic Games in Norway and was selected as the Flagbearer for Team Canada. In the past few years he has won 3 gold, 4 silver and a bronze medal at the Canadian Biathlon Championships and the 2015 Canada Winter Games. Often competing in age groups above him.
Constantly bouncing between sports and never really "clicking" with his family's sport of squash, Ben's mother signed him up for biathlon training in 2009. Since that time, he has learned how to become a dedicated athlete traveling through the country and world competing in his sport. Attending practices and races helped him learn to organize his chaotic and unstructured modus operandi, develop his own will and discipline, stretch his capacity for pain and focus, forge relationships with teammates and coaches, and renew his appreciation for the opportunities he has been given. The pursuit of excellence in sport has now permeated almost all areas of Ben's life.
Ben has now just graduated as valedictorian for the Bishop Carroll Graduating Class of 2016. For the upcoming year, he has been accepted into the undergraduate program of Neuroscience at the University of Calgary while continuing to train and compete at an international level in biathlon. After reading Clara Hughes' book and really resonating with her work for Right To Play, Ben is looking to involve himself in an organization (such as Right To Play or More Than Sport) that allows him to give back some of what he has learned to the next generation coming up in sport. He believes that he will not only be helping others find the power of sport and mold themselves into the people that they want to become, but also inject new impetus and meaning into his own athletic career by racing for more than just himself….We are so proud to help support Ben's journey to excellence and excited to follow his career!